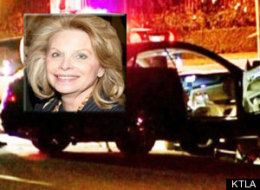 Ronni Chasen Murder: Victim In Beverly Hills Shooting: Authorities say prominent Hollywood publicist Ronni Sue Chasen has been shot to death while driving her Mercedes-Benz in Beverly Hills.
The coroner's office released the identity Tuesday, hours after the 64-year-old woman was shot several times in the chest.
Police say Chasen's vehicle then crashed into a light pole along Sunset Boulevard shortly before 12:30 a.m. Tuesday.
Police Lt. Tony Lee says investigators don't have a motive for the killing and have not identified any suspects.